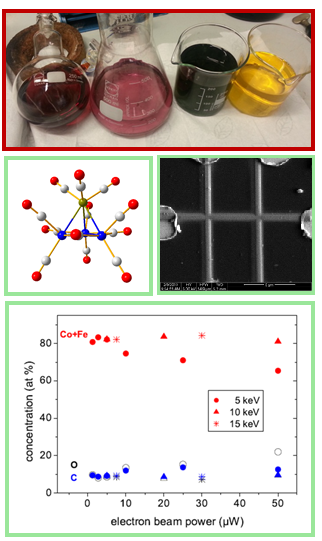 A new and highly interesting topic of our research is devoted to investigating molecules which can be used in focused electron beam induced deposition (FEBID) processes. This research on identification and synthesis of new proecursors is highly relevant, because most electron induced deposition processes lead to highly contaminated deposition products. Our involvement (WG2 Chair: S. Barth) in an European COST project CELINA resulted in new insigths. The use of heterometallic precursors enables the deposition of an unusually clean metal deposit without subsequent cleaning steps. These significant results sparked additional interest of other groups and extends our network of active collaborations in this area of interest.



Current understanding of the precursor fragmentation for different ligand classes in precursors being investigated for FEBID can be summarised as follows (and elaborated upon in a review currently under peer review):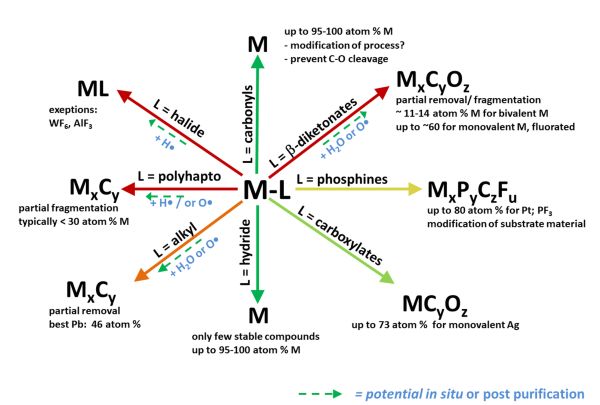 Contributions of interdisciplinary teams is required for developments of disruptive nature in FEBID.
.

Review / Perspective:
1.)"Precursors for Direct-Write Nanofabrication with Electrons"
S. Barth*, M. Huth, F. Jungwirth J. Mater. Chem. C 2020, 8, 15884-15919.



Selected Papers:
1) "Electron Induced Surface Reactions of HFeCo3(CO)12, a Bimetallic Precursor for Focused Electron Beam Induced Deposition (FEBID)"
R. K. T P, I. Unlu, S. Barth, O. Ingólfsson, D. H. Fairbrother* J. Phys. Chem. C 2018, 122, 2648–2660.

2) "Electron Interactions with the heteronuclear carbonyl precursor (H2FeRu3(CO)13): from fundamental gas phase and surface science studies to focused electron beam induced deposition "
R. K. T P, P. Weirich, L. Hrachowina, M. Hanefeld, R. Bjornsson, H. R. Hrodmarsson, S. Barth, D. H. Fairbrother, M. Huth, O. Ingólfsson* Beilstein J. Nanotechnol. 2018, 9, 555-579.

3)"Magnetic characterization of direct-write free-form building blocks for artificial magnetic 3D lattices"
M. K. I. Al Mamoori, L. Keller, J. Pieper, S. Barth, R. Winkler, H. Plank, J. Mueller, M. Huth* Materials 2018, 11, 289.

4) "Formation and decay of negative ion states up to 11 eV above the ionization energy of the nanofabrication precursor HFeCo3(CO)12"
F. K. T. R. , R. Bjornsson, S. Barth, O. Ingolfsson* Chem. Sci. 2017, 8, 5949-5952.

5) "Structure and energetics in dissociative electron attachment to HFeCo3(CO)12"
K. T. R. Kumar, S. Barth, R. Bjornsson, O. Ingolfsson* Eur. Phys. J. D, 2016, 70, 163.

6) "Direct writing of CoFe alloy nanostructures by focused electron beam induced deposition from a heteronuclear precursor"
F. Porrati*, M. Pohlit, J. Müller, S. Barth, F. Biegger, C. Gspan, H. Plank, M. Huth Nanotechnology 2015, 26,

475701

.